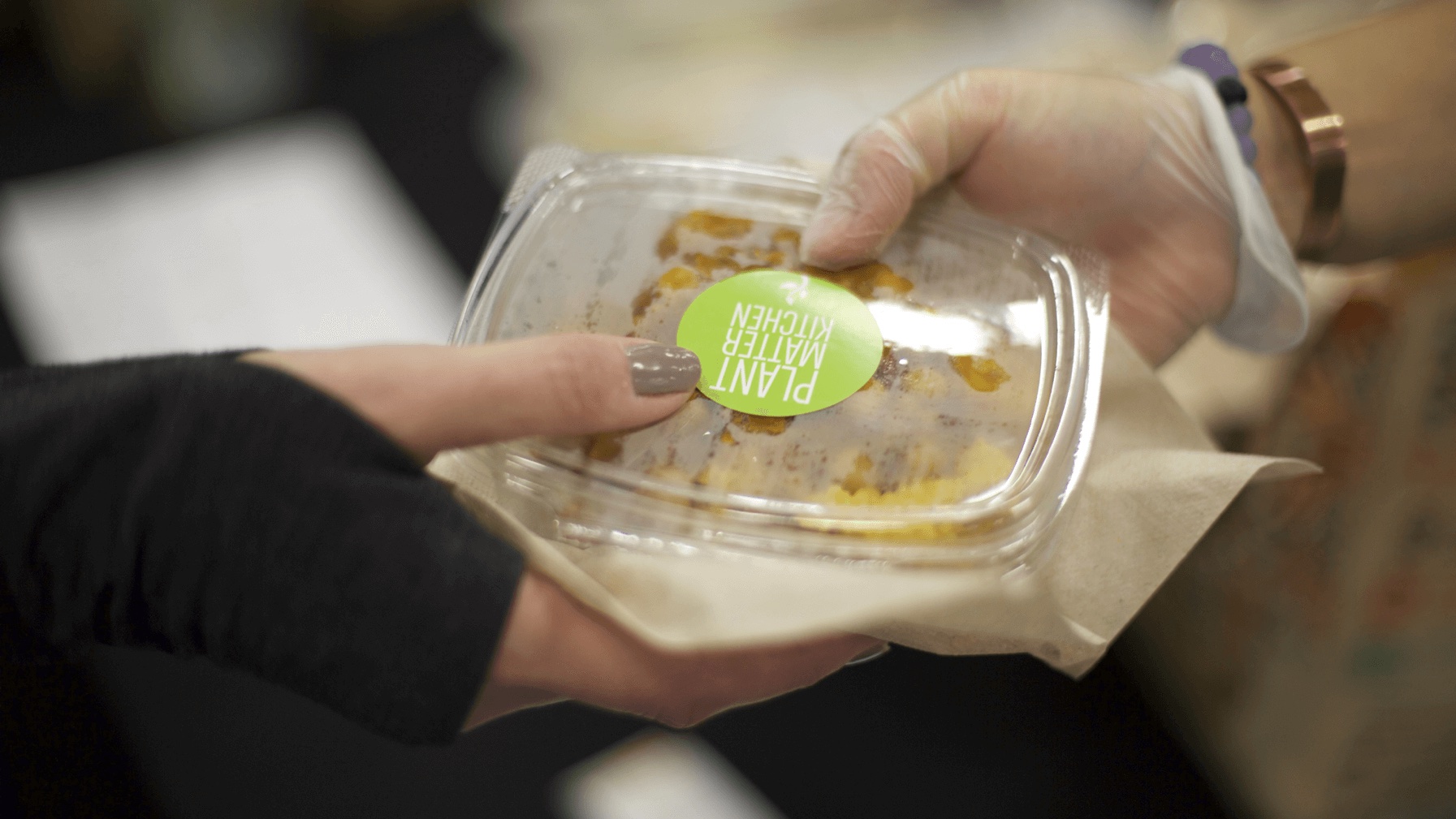 "The purpose of VEGFEST is to spread the word about veganism," VEGFEST Organizer Brittany Bragg told Plant Matter Kitchen, "and to educate people and bring the community together over something that's really positive."
COMMUNITY + COMPASSION + PLANTS = VEGFEST LONDON
PMK'S PRE-PARTY
On November 3rd, Plant Matter Kitchen hosted the official VEGFEST Pre-Festival Dinner Party.
With music from "A Pair's 3" setting the tone and chatter filling the eatery, guests chose from a menu of main dishes including: Lentil Lasagna with Veggies, Mild Ginger Chickpea Curry, and a Raw Zucchini Bowl with Pesto.

PMK hosted nearly 1,000 guests over two dinner seatings and raised $1,200 for VEGFEST!
Check out our VLOG on the evening!
What It's All About
At our Pre-Festival Dinner Party, Brittany filled us in on what VEGFEST is all about and why all members of our London community should attend!
"It's just about really celebrating what veganism is," said Brittany, "and it's about teaching people that veganism isn't just a big scary V word. It's actually something that's really fun and really positive and it benefits a lot more than just yourself."
Going on its 3rd year, VEGFEST London celebrates everything including food and products, to wellness and health. With over 5,000 attendees, VEGFEST London 2015 saw double the patrons from the year before! They had over 600 people in the door during the first 10 minutes… how amazing!
And this year was even better!
VEGFEST 2016
On November 12th, we met so many people dedicated in the vegan movement who are doing beautiful things for our community through food and beverage, apparel, skin products, and so much more!


It was amazing seeing so many compassionate vendors at VEGFEST, many of whom are proud partners of PMK, including: Booch Organic Kombucha, Glassroots, Boho Bake Shop,
Purdy Natural, Nuts For Cheese, The New New Age,
Cedar Row Farm Sanctuary, Western Ontario Vegan Society, Animal Justice
Canada, and more!
Nearly 8,000 people attended VEGFEST London 2016 and about 4,000 of those guests dropped by our Plant Matter Kitchen booth. We raised about $1,000 for Cedar Row Farm Sanctuary and FrogHollow Farm Sanctuary from our sales of hummus and chips, a variety of cookies, and curry and rice.

VEGFEST 2016 was an amazing community event that spread lots of vegan love and great energy.
Check out our VLOG on the event!
We already can't wait for next year!
Community, Vegan, vegan festival, VegFest, VegFest London ON 2016