They're perfect for snacking on, turning up the traditional stir-fry a couple notches, and are an excellent source of antioxidants and minerals.
They're shaped like a kidney bean, originate from an apple, and have their own distinct taste.
They're cashews, and today is their special day! Plant Matter Kitchen is celebrating with our very own Cashew Cheesecake!
Cashews Come from Where!?
Did you know that cashews come from the bottom of the cashew apple? They do… amazing!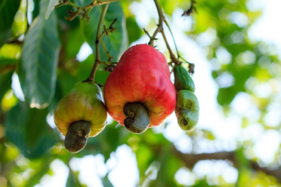 The cashew apple looks like a mix between a Pink Lady apple (in colour) and a red bell pepper (in shape), and is native to northeastern Brazil.
They're protected by a double shell that contains urushiol acids, which is the same sap found in poison ivy that causes skin irritation. They also contain starch that's about 10% of their weight, which makes them excellent for thickening water-based dishes, such as soup.
Health Benefits
Encapsulating endless health benefits, cashews:
Have little to no fat content, in comparison to other nuts
Are cholesterol free
Contain magnesium, which lowers blood pressure
Help our bodies use iron properly
Have flavonoids, which help fight against cancerous cells
Filter UV rays & protect from macular degeneration
Nuts For Cheese
In honour of this day, we can't help but acknowledge our friends at Nuts For Cheese, who use cultured organic cashew milk in their line of plant-based, dairy-free cheeses.
A proud partner of PMK, we offer a delectable Nuts For Cheese Platter as an appetizer on our dinner menu: a variety of nut-based "cheeses" served with seasonal fruits, olives, onion jam, and accompanied by gluten-free seed-based crackers.
This "cheese" can be added to our delicious PMK veggie burgers, too! Not only is it healthy and cruelty-free, it's a perfect compliment to many of our vegan menu items!
Recipes With Cashews
Have some cashews in your cupboard, and need a great recipe for inspiration?
Check out our vlog on how we make our own Cashew Cheesecake here at PMK and our blog post "What's On Your Bookshelf!?" for more go-to sources for vegan recipes.