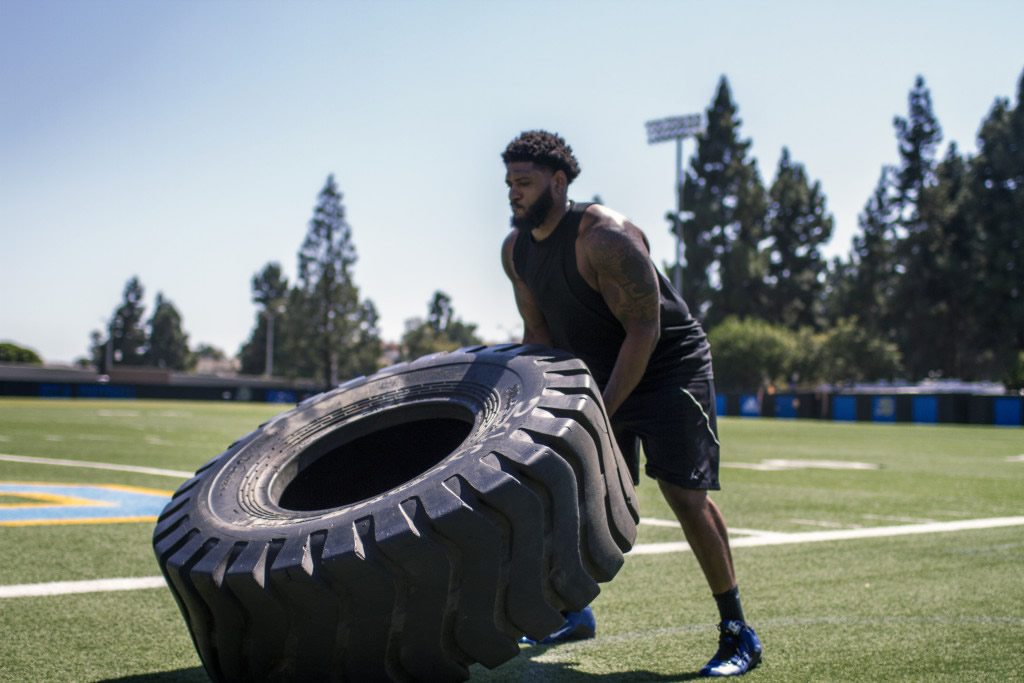 He's 300 pounds.
He's a NFL Defensive Lineman.
He's an animal rights advocate who breaks the mould of traditional veganism.
David Carter
Famously known as The 300 Pound Vegan, David Carter is a powerhouse—both in strength and in activism.
The man who plays for the Chicago Bears (and formerly played for the Arizona Cardinals, Dallas Cowboys, Oakland Raiders, and Jacksonville Jaguars), also uses his celebrity, passion, and strength to raise awareness to the rights of animals.
The documentary Forks Over Knives is what did it for David. Suffering from extreme tendinitis at the time, David was intrigued by how dairy and animal fats can cause inflammation in joints, and decided it was time to rid animal and animal by-products from his diet. In February 2014, he converted to veganism and has been an inspiration to the vegan movement ever since!
In a podcast interview with Rich Roll, who we also feature in our Veganism + Athleticism blog series, David explains how if one of the strongest men in the world could master such strength while being vegan, then so could he!
"I started doing more research and learned all the plant-based proteins and what the highest forms of proteins are and where I could get them," said David, "I just started from there and kind of turned into a plant-based scientist."
From Football Force to Full-On Vegan
In an interview with NFL.com, David admitted that being a vegan while in the NFL is somewhat socially isolating:
"Football is a machismo sport, which is great, but everything can't be machismo. On the field and at practice, yes, you can be machismo," says David, "but when it comes to diet, you need to have compassion for your body."
David's physique is the epitome of having both compassion, fortitude, and vigor.
Wondering how David gets his dose of daily protein? According to an interview with GQ:
The protein comes from a lot of different places—rice and beans, which together make complete protein; whole grains like millet, quinoa, and couscous; supplements like spirulina and hemp protein; and nuts, which give Carter one of his favorite ingredients, cashew cheese made with nutritional yeast.
Insta-Strong—with over 87,000 followers, David's Instagram says it loud and clear: "100% VEGAN • Food Justice Activist." David gets candid in one of his posts:
"After going #vegan within months my body began to heal itself, I dropped forty lbs, got rid of all team prescribed medications and started OP Plant Weight Gain! Now almost four years and few plus lbs later it's still one of the best decisions I've made for myself."
Setting The Stage
In October, David shared the stage with renowned athletes and vegans Torre Washington and Dominick Thompson at the Coalition of Vegan Activist of Color's " 2016 People of Color: Animal Rights, Advocacy and Food Justice Conference", where the three spoke in tandem about their practices and commitments to veganism.
David shared how before becoming vegan, he suffered from high blood pressure, tendonitis, and early onset arthritis, which led to too much medication at the very young age of 23.
Something had to be done, so he became vegan.
When asked about the depth of his veganism, David drew attention to ways that animal products are used in products beyond food. Did you know soap is made with the animal fat ingredient "glycerin"? He also mentioned how he and wife Paige Carter sold their Cadillac Escalade because the heated leather seats reminded them too much of animal injustice.
Community Involvement
David has made a tremendous impact on communities all around the United States.
David is a member of Team Humane League, which works to "reduce animal suffering through grassroots education to change eating habits and corporate campaigns to reform farm animal treatment." Team members, as Carter explains, get tips, training plans, and nutrition plans from expert coaches.
David and Paige, who is also a vegan, animal activists, and works with her husband on the staff of Vegan Outreach, adorned the cover of LAIKA magazine's 5th issue, "Strength," which focuses on the "bold activism, innovative creativity, and fearless drive of veganism."
From football to fighting for animal justice, David is an athlete, member of the community, advocate, and activist to truly admire. His dedication to the NFL and to veganism demonstrate his versatility and how ultimate strength can be celebrated both on and off the field, with a diet that incurs tenants of peace and justice.
To learn more about David's story and his life as a vegan, check out his website, which is sponsored by Animal Rights Conference, Animal Place, Vegan Outreach, The Humane League, and VEGA.