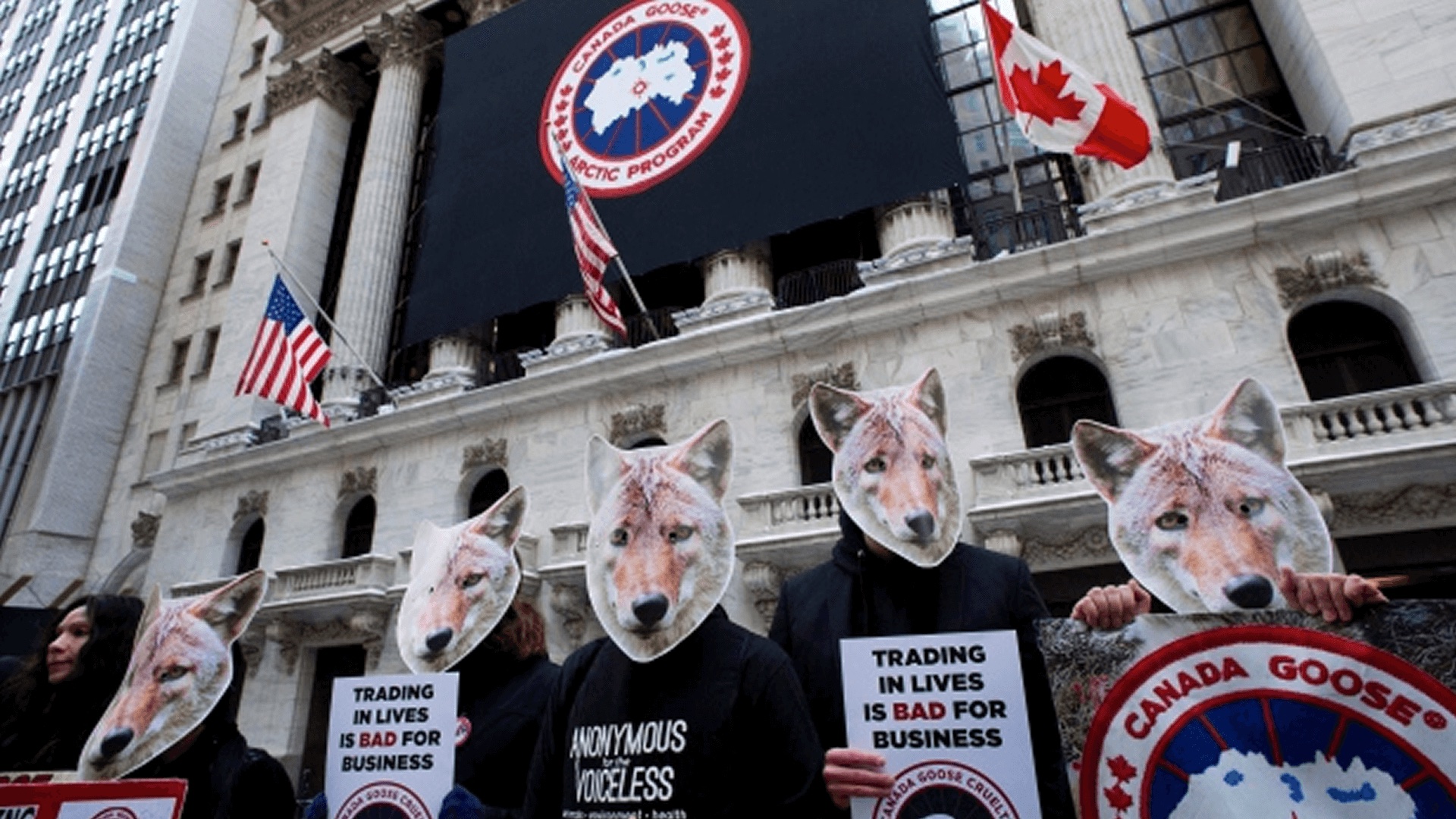 Photo credit: CBC News
Keeping their enemies close, People for the Ethical Treatment of Animals (PETA) is taking a corporate stand against animal cruelty.
PETA VS. CANADA GOOSE
Adorning placards that read "Friends Not Fashion" and "Wear Your Own Skin," coyote-masked PETA activists lined up in front of the New York Stock Exchange (NYSE) on March 16.
Their purpose? To protest the Initial Public Offering of the Canada Goose stock, on the first day it went public on the NYSE and the Toronto Stock Exchange (TSX).
Canada Goose was founded in 1957 under the name Metro Sportswear Ltd. Their winter wear is made with animal furs and feathers—coyote fur on the hoods and down made from duck feathers.
Protesting against the inhumane capturing, trapping, and treatment of coyotes—whose fur is used on the coat's trim—one protester said:
"We're here to support all the animals that have suffered and been tortured for this product."
Also on March 16, PETA and Direct Action Everywhere activists protested outside the TSX, holding signs that read: "Trading Lives is Bad Business" and "Indecent Public Offering."
Calling Canada Goose out on their inhumane business practices, one protester announced:
"Today we stand on behalf of those tortured for profit. Geese exploited for their feathers and coyotes trapped in leg-hold traps. So cruel, they are banned in over 80 countries."
PURCHASING POWER
PETA bought $4,000 worth of shares, which is the "minimum amount required to contribute to shareholders meetings," Ben Williamson, PETA spokesperson, told Global News.
PETA representatives plan on leveraging their spot at the table to convince Canada Goose to stop the inhumane trapping and abuse of animals used in their clothing.
Ben told CBC News that PETA plans on using their position to introduce a shareholder resolution, and will propose that Canada Goose "abandon the cruel use of fur and feathers" in their jackets. "We'll divest of the shares as soon as sufficient progress has been made regarding the animal exploitation," says Ben.
SPARKING PROTEST FROM THE INSIDE
This approach to business isn't new for PETA. With the same intents and purposes, PETA has acquired shares in Procter and Gamble, McDonald's, Lululemon, Hermès, DuPont, and General Electric.
PETA's protests against Canada Goose at the 2014 Berlin Film Festival influenced the festival to end their partnership with the clothing company, which was a sponsor of the festival that year.
PETA isn't the only group to take against Canada Goose. In 2015, the animal rights group Animal Justice filed a complaint with the Competition Bureau against Canada Goose, drawing attention to the inhumane and cruel methods used to capture coyotes with traps.
Animal Justice, Animal Rights, Canada Goose, Direct Action Everywhere, Fashion, NYSE, PETA, Protest, TSX